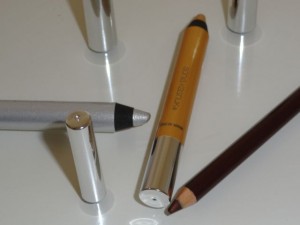 Sonia Kashuk does it again, this time giving three great eye pencils with two that can double as a cream eyeshadow!
Sonia Kashuk's limited edition "Blink of an Eye, Eye Pencil set" gives beauty budgetnista's a awesome way to get more bang for their buck .
This trio features a Gold Shimmering Creme Shadow, a Silver Shimmering Creme Shadow along with a Metallic Eye Definer. One of the best bonuses of this set is that both the Creme Eyeshadows are waterproof, something I happened to accidentally find  out when I realized that the swatches would not come off in the shower and I had to use makeup remover to get them off!


Another great thing is that I caught them on Sale for $6.49 with the regular price being $12.99.
In the mood for some great shimmery shades head to your local target and check it out.