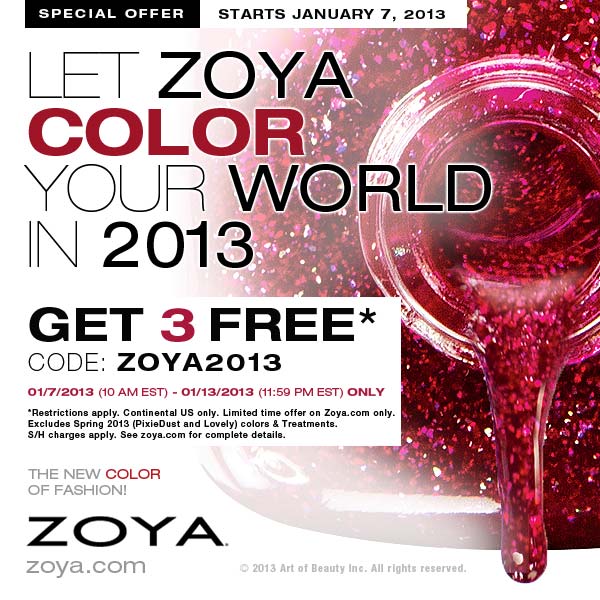 Zoya, one of my favorite nail polish companies is giving away 3 free nail polishes, all you do is pay shipping!! If you've been looking to try out some of Zoya's fabulous colors don't miss out on this opportunity!
Add three colors to  your cart
This excludes the Zoya Lovely, Pixidust and Treatments
Enter in code Zoya2013
Pay $10 Shipping and Handling
Offer ends January 13, 2013 11:59pm
I am picking up three colors from the Ornate Collection, Blaze, Logan and Storm! Which three will you get?


style="display:inline-block;width:336px;height:280px"
data-ad-client="ca-pub-0600265911196073″
data-ad-slot="8346303981″>

My name is Melody Robinson Wright, and I am a wearer of many hats. When I'm not taking care of the home as a loving wife and mom to two spoiled dogs, I'm in the lab tackling one life's biggest diseases, Malaria. I am also the Beauty Editor of Cosmetically-Challenged.com, where beauty rules are so faux pas! I am a admitted beauty junkie who has refused rehab. I love all things beauty wether it's high end or found in your local drug store.