Cosmetically Challenged's Best of Maybelline Spring 2013 Give Away!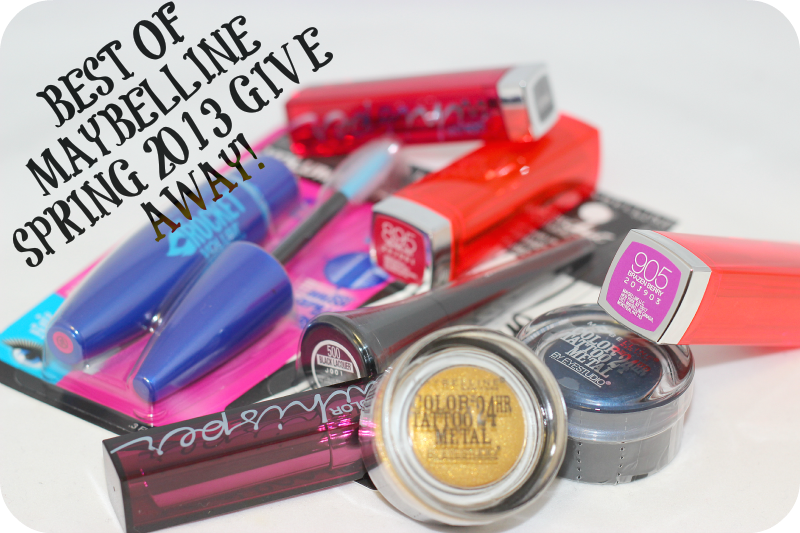 Whew! When I received all the new items from the Maybelline Spring 2013 line to try out I knew that they were going to take the beauty world by storm, but I honestly had no idea it would be this big! I would like to thank you all for stopping by the blog and checking out all my reviews!  Today was the first day I actually saw the new Maybelline items in one of my local stores and while the display was kind of picked through some of my favorites still remained. I know items have been going fast and selling out quick so I decided I would grab my top item from each category in the Maybelline Spring 2013 line and give them to one lucky reader! Entry is easy, just apply through the rafflecopter below! (please allow time for  the rafflecopter to load). Check out my reviews of each of the items by clicking on the highlighted links listed in the prizes! This contest is open internationally.
This prize pack includes:
Maybelline Color Tattoo "Gold Rush"
Maybelline Color Tattoo "Electric Blue"
Maybellie Color Whisper "A Plum Prospect"
Maybelline Color Whisper "Who Wore it Red-er"
Maybelline ColorSensational Vivids "Brazen Berry"
Maybelline ColorSensational Vivids "On Fire Red"
Maybelline "The Rocket" Mascara 
and Maybelline Master Duo Liner in "Black Lacquer"
Good Luck!!