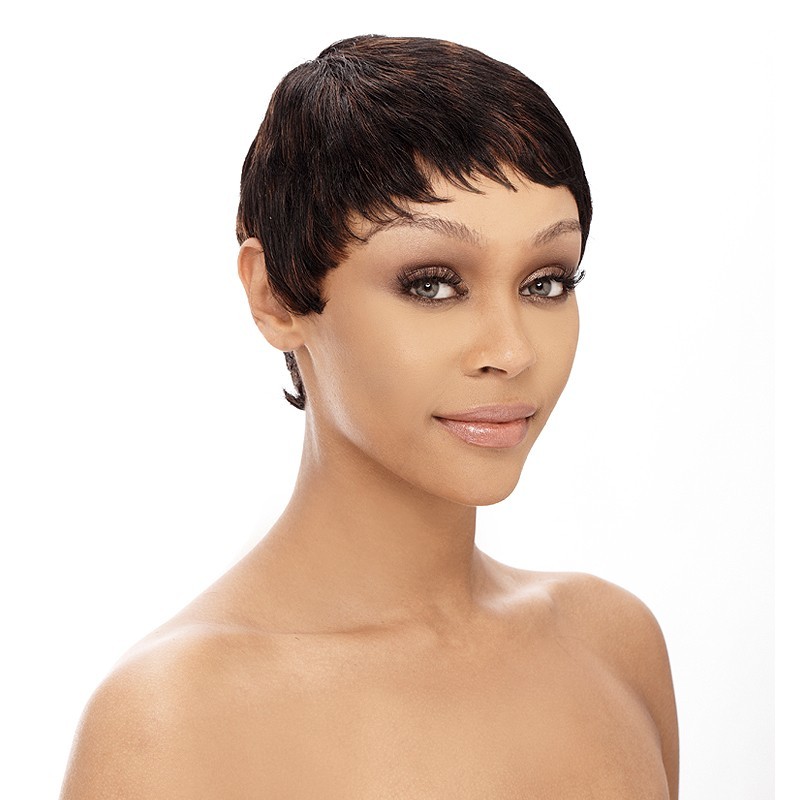 It's a Wigs "Molly" is ubber ubber super duper short. Like honestly either my head is just massive or  the model in this picture has a super teeny head because it took me FOREVER to get it to fit my head.
Okay let me give you the basics, as I said this is a Human Hair full cap wig. There are no combs but there are adjustable straps on the back. In order to get this baby on I actually had to unhook the straps. I think the best way to wear this wig, if you have a lot of hair, would be to mold your hair down or really really get your hair flat. Even after a good flat iron I still had too much bulk which caused the front not to lay down as far on my head like the picture of the model
All in all this is a cute wig.. but not on me. This style would look amazing on someone with a smaller face because it's super chic! This wig actually caused me to have two revelations. 1. I really need to get back in the gym because my face has gotten very plump and 2. I look just like my Grandmother. I sent a picture of me in the wig to my sister and her response was "OMG, you look just like Grandma". She thought it was so hilarious that she made a side by side with my Grandmother and I.. at least I know I'm going to age beautifully!
The It's a Wig HH Molly can be found on It'sawig.com! While you're there check out some of their other amazing pieces!