Maybelline Dare To Go Nude Color Tattoos *Limited Edition*
Maybelline Color Tattoos.. I'm addicted, obsessed, whatever you like to call it. Did you see this heart I made out of them (click here)? Recently Maybelline launched a new set of Limited Edition Color Tattoos all in the nude family. This collection is appropriately called "Dare to Go Nude" and pairs well with their Nude Cheek Stains and Lipsticks. There are 6 new color tattoos in the collection that give you a wide range of nudeness. So this post wouldn't be too long I created a chart below with the Color Tattoo and swatch next to it. The colors are definitely brown girl friendly and a must have for any collection.
I will note that the Maybelline Dare to Go Nude Color Tattoo displays are only carrying 2 of each color so if you see these grab them immediately. I cleaned out a whole display so myself and a fellow beauty blogger whose also an avid Color Tattoo collector could have them.  Have you spotted these yet? If so which ones did you pick up?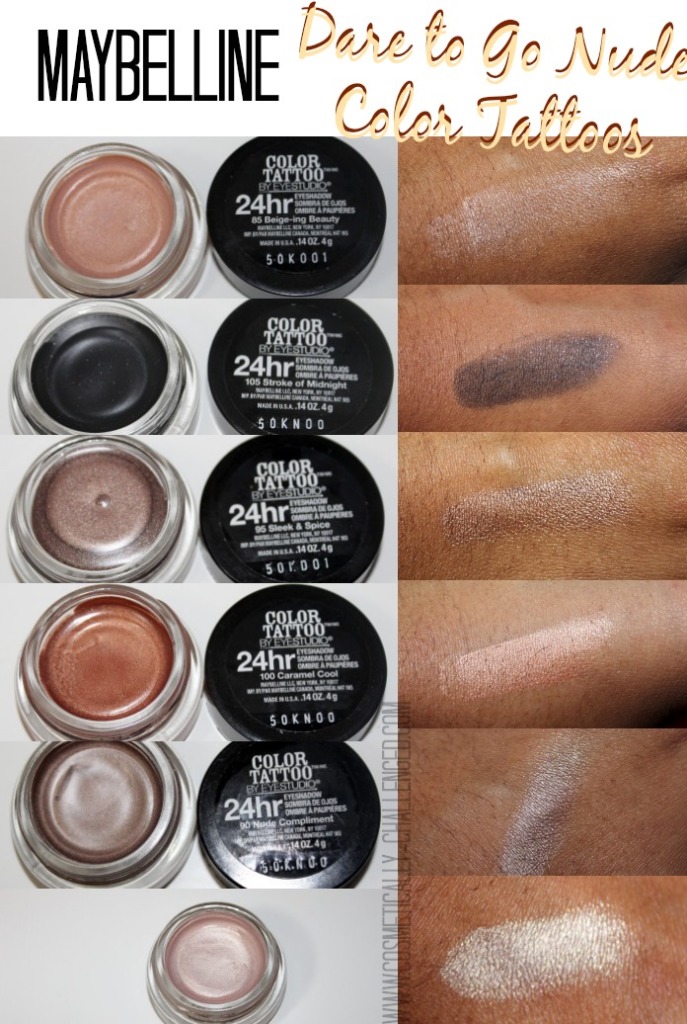 *Last Color is Pure Nude. My Dog got a hold of the top and the label was ruined.*
[sam id="1" codes="true"]